Welcome to Food Services!

The Application for Free and Reduced-Priced Meals is NOW ONLINE.


Apply for Free & Reduced Meal Benefits
online any time!
---
Dear Parents/Teachers/Administration of Fullerton Joint Union H.S. District,
The Food Services Department here at Fullerton Joint Union High School District is committed to providing healthy school meals and snacks to all students. The team of dedicated food and nutrition professionals support student academic success and promotes healthful eating habits that lead to lifelong positive nutrition practices.
School meals are served to students under the National School Lunch Program and the School Breakfast Program and follow the nutrition guidelines prescribed by The Healthy, Hunger-Free Kids Act of 2010. The law was designed to reduce the incidence of childhood obesity by providing healthier choices to students.
Increased produce options, ensuring that students receive both fruits and vegetables every day of the week
Portion size guidelines and calorie limits based on the age of children served
Increased emphasis on whole grain products
Limits on the types of milk served, with an emphasis on low fat (1%) and non-fat varieties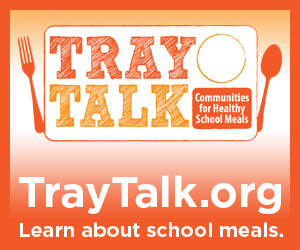 To learn more about school meal regulations visit www.TrayTalk.org
The winning recipe for a healthy lifestyle includes a combination of both good nutrition and physical activity. Your body needs a variety of nutrient rich foods to grow and prevent illness. And your body also needs to move and exercise every day.

Key things you need to know about leading a healthy lifestyle are:
Eat a healthy diet that includes fruits, vegetables and whole grain products
Control portion sizes and never "Supersize"
Get active for at least 60 minutes, five times a week for ages 6-18


Well-nourished students have higher test scores, increased school attendance, improved concentration, and improved classroom behavior. Students, who are physically fit, sleep better and are better able to handle the physical and emotional challenges that they encounter during the day.


---
Student Meal Prices:

Student Breakfast $2.50 per meal

Student Lunch $3.75 per meal
Check Your Child's Balance Online!
Parents can view their students balance and lunch history online by clicking below. You will simply enter your students ID# and select to view the last 30, 60, 90 or 120 days. Student accounts are updated each day after 5pm.
Thank you!
Learn More Here: Step by Step Instructions e~Funds Registration Details


Click here to pre-pay
online any time!



Add Money on your students lunch account Today!






Notice: The California Revenue and Taxation Code (RTC) Section 19853(b) requires local educational agencies (LEA) that operate the National School Lunch Program (NSLP) to annually notify households about the Earned Income Tax Credit (EITC) Information Act.